Home > Swags > Red Swags > LED & Powerbank
SWAG - LED & Power Bank
Please add item to shopping cart to get a freight quote
Freight Insurance
As part of our freight service Kulkyne Kampers offers freight insurance to ensure that the customer is protected if their goods get lost or damaged in transit. Freight insurance is optional so customers will need to select this option during the shopping cart process if they require it. We will ship your goods to you under one of the following terms depending upon which insurance option you select.
DDP: If you select the Freight Insurance option your goods will be freighted to you "DDP" which means we will assume all responsibility for delivering the goods to you. Any damage or loss of goods will be covered by Kulkyne Kampers at no risk to you. Once you have signed the "Proof of Delivery" when the goods are delivered to you, any damage to the product then becomes your responsibility. Please ensure your goods are fully delivered in good condition before you sign the "Proof of Delivery."
CFR: If you do not select the Freight Insurance option your goods will be freighted to you "CFR" which means you assume all responsibly for loss or damage of the goods from us to you. No liability will be accepted by Kulkyne Kampers under any circumstances if you do not select the Freight Insurance option.
Delivery Times: The times shown on this website are intended as a guide only, please call us if your delivery time is critical.
Freight Details
Size: 21(l) x 13(w) x 3(h) cms
Weight: 1kgs
Optional Freight Insurance: $1.98
SWAG - LED & Power Bank
Part Number: KKLEDPB
LED Light and 20000mAh Power Bank for your Kulkyne Swag!!!
This great new swag light will light up your Kulkyne swag for 24 hours!
This LED and Power Bank system have been specifically designed to match your Kulkyne Swag. Kulkyne Swags manufactured from mid 2015 already have the PVC sleeve and pocket to locate the LED and Power Bank, please look at the head end of your swag to verify your Kulkyne swag has this.
Kulkyne Swags have a PVC sleeve sown in behind your head area to take the LED light, meaning you can light up your swag for reading or what ever purpose without having the LED light in your eyes. Also their is a pocket located to the side of the head area to take the power bank.
The LED light set also has a switch set in a convenient position to allow you to turn on/off your LED easily when your are in the swag.
Many people have asked us about a solar option for their swags too, but with a 24 hour run time, this power bank should last the average user well over a month without recharging and can generally be recharged from your vehicle cigarette socket.
Power Bank Specs

Model Number: PB20000
Capacity: 20000mAh
Capacity: 74Wh/3.7V
Input: 5V @ 2.1A
Output 1: 5V @ 2.1A
Output 2: 5V @ 1.0A
Size: 160 x 80 22.6mm
Weight: 468g
Temp Range: -20 to +60 oC




Please Support our Family Business

If you like this page and our website please support our business by sharing this page:







Email Updates

If you would like to keep in touch with us by email,
please enter your first name and email address below.








Brett, Mandy, Isabella & Christian Hooper
Additional Products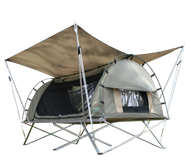 Homestead Single Swag
Kulkyne
RRP $749.00
Our Price $599.00
Big Boy Swag + Pillow Top Mattress
Kulkyne
RRP $599.00
Our Price $429.00
Homestead: Compact Double Swag
Kulkyne
RRP $999.00
Our Price $759.00