Home > Roof Top Tents > 2 Person Roof Top Tents > RTT - Sleeping Bag/Pillow Top
RTT - Pillow Top Sleeping Bag
Please add item to shopping cart to get a freight quote
Freight Insurance
As part of our freight service Kulkyne Kampers offers freight insurance to ensure that the customer is protected if their goods get lost or damaged in transit. Freight insurance is optional so customers will need to select this option during the shopping cart process if they require it. We will ship your goods to you under one of the following terms depending upon which insurance option you select.
DDP: If you select the Freight Insurance option your goods will be freighted to you "DDP" which means we will assume all responsibility for delivering the goods to you. Any damage or loss of goods will be covered by Kulkyne Kampers at no risk to you. Once you have signed the "Proof of Delivery" when the goods are delivered to you, any damage to the product then becomes your responsibility. Please ensure your goods are fully delivered in good condition before you sign the "Proof of Delivery."
CFR: If you do not select the Freight Insurance option your goods will be freighted to you "CFR" which means you assume all responsibly for loss or damage of the goods from us to you. No liability will be accepted by Kulkyne Kampers under any circumstances if you do not select the Freight Insurance option.
Delivery Times: The times shown on this website are intended as a guide only, please call us if your delivery time is critical.
Freight Details
Size: 135(l) x 26(w) x 26(h) cms
Weight: 14kgs
Optional Freight Insurance: $7.58
RTT - Pillow Top Sleeping Bag
Part Number: KKRTTSB
Pillow Top Mattress for your Roof Top Tent
The standard mattress in a Roof Top Tent isn't always the most comfortable - that's why we've developed a Pillow Top Mattress & Sleeping Bag all in one. Increasing your comfort and making sure you get a good night's rest.
How It Works?
Our New RTT Sleeping bag has a layer of 40mm comfort foam built into it. When you connect it to your existing Roof Top Tent high density mattress it transforms into a Pillow Top Mattress with plenty of comfort and support. Our ultra-high quality sleeping bag also adds an extra layer of comfort! The support given by your existing roof top tent mattress is fine, but by adding our 40mm of comfort foam it will also conform to the shape of your body, relaxing you and helping you sleep.
How Good is the Sleeping Bag?
This Roof Top Tent sleeping bag is based off our successful swag sleeping bags which feature 4 different temperature ratings in one sleeping bag. This allows you to have a -10 bag in winter and a +15 bag in summer, with +5 and -5 ratings for in-between weather. This ensures whatever the season, you'll have a great nights sleep, and it's also made to suit your mattress size.
1. Sleep in the winter position and you get a snug -10 degree rating;
2. Sleep in the autumn position and you get a warm nights sleep without being too hot;
3. Zip out the inner and you'll get a beautiful nights sleep in mild weather without being too hot or too cold!
4. Use the summer sheet only and you can have a comfortable nights sleep even in summer. This is where other high quality bags struggle, they keep you warm in winter but cook you in summer!
This sleeping bag also features 100% cotton material on the inside of the swag so it breathes and doesn't irritate your skin! With this sleeping bag we've considered it all!
What size RTT does it fit?
Nearly all 2 person roof top tents on the market are a standard size. This means our RRT Pillow Top & Sleeping Bag should fit nearly any 2 person RTT (other brands may not close with the Sleeping bag inside) . If you measure your existing RTT mattress and its 2360mm long x 1440mm wide or very close to it, our new Pillow Top/Sleeping Bag will fit.




Please Support our Family Business

If you like this page and our website please support our business by sharing this page:







Email Updates

If you would like to keep in touch with us by email,
please enter your first name and email address below.








Brett, Mandy, Isabella & Christian Hooper
Additional Products
Roof Top Tent - 2P
Kulkyne
RRP $1,499.00
Our Price $1,199.00
Traditional Swag - King Single
Kulkyne
RRP $239.00
Our Price $199.00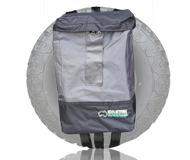 4WD Garbage Bag
Kulkyne
RRP $132.00
Our Price $59.00