Home > Swags > Stretcher Swags > Double Stretcher
Double Stretcher
Please add item to shopping cart to get a freight quote
Freight Insurance
As part of our freight service Kulkyne Kampers offers freight insurance to ensure that the customer is protected if their goods get lost or damaged in transit. Freight insurance is optional so customers will need to select this option during the shopping cart process if they require it. We will ship your goods to you under one of the following terms depending upon which insurance option you select.
DDP: If you select the Freight Insurance option your goods will be freighted to you "DDP" which means we will assume all responsibility for delivering the goods to you. Any damage or loss of goods will be covered by Kulkyne Kampers at no risk to you. Once you have signed the "Proof of Delivery" when the goods are delivered to you, any damage to the product then becomes your responsibility. Please ensure your goods are fully delivered in good condition before you sign the "Proof of Delivery."
CFR: If you do not select the Freight Insurance option your goods will be freighted to you "CFR" which means you assume all responsibly for loss or damage of the goods from us to you. No liability will be accepted by Kulkyne Kampers under any circumstances if you do not select the Freight Insurance option.
Delivery Times: The times shown on this website are intended as a guide only, please call us if your delivery time is critical.
Freight Details
Size: 127(l) x 32(w) x 15(h) cms
Weight: 30kgs
Optional Freight Insurance: $5.98
Double Stretcher
Part Number: KKQDS-STR
*Please note: This listing does not include the stainless steel turnbuckles required if using this product for a couple. The turnbackles are sold seperately. Customers wishing to use this stretcher as an extra large single stretcher will not require the turnbuckles.
Stainless Steel Turnbuckle Set: Click Here
Our new Patented Double camp stretcher is a break through in camping product design. This Patented new design, now allows you to have a double stretcher bed with no pole down the middle!!!
By use of our patented tensioning strap, we now have a product with no dividing pole, yet with enough support that a couple will not role into each other while sleeping...
Also we have divided this double stretcher into two compact carry bags, meaning this extra strong stretcher is not too heavy to cart around (main bag is 19kgs, second bag is 8kgs).
Made from heavy duty steel, this double stretcher is rated to 200kgs for warranty purposes (max 120kgs for any one partner), and comes with a 2 year warranty.
This camp stretcher is also designed to match up with our queen size Kulkyne swags (225 x 150cms), allowing you to have an extra large double stretcher swag with no centre pole!!!
Our Double Stretcher comes with holes in the frame to accomodate our swag poles, integrating the swag and stretcher together. We also supply two spring rods with the stretcher which holds out the end flaps of the Queen swag without ropes and pegs, they also come with our heavy duty Kulkyne carry bag to match our swag carry bags.
Product Specifications:
230(l) x 146(w) x 50(h) cms setup;
127(l) x 11(w) x 22(h) cms (bag 1);
80(l) x 11(w) x 6(h) cms (bag 2);
Rated to 200kgs;
Full steel frame (19kgs + 8kgs);
Laminated 600D Poly Fabric with PVC coating;
Heavy Duty Kulkyne Carry Bag included.




Please Support our Family Business

If you like this page and our website please support our business by sharing this page:







Email Updates

If you would like to keep in touch with us by email,
please enter your first name and email address below.








Brett, Mandy, Isabella & Christian Hooper
Additional Products
Queen Swag
Kulkyne
RRP $599.00
Our Price $399.00
Double Stretcher Swag
Kulkyne
RRP $1,097.00
Our Price $767.00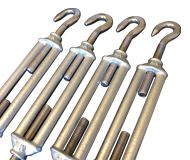 S/S Turnbuckle Set - 10mm
Kulkyne
RRP $99.95
Our Price $59.95