Home > Swags > Army Swags > Kulkyne King Single Swag
King Single Swag
Please add item to shopping cart to get a freight quote
Freight Insurance
As part of our freight service Kulkyne Kampers offers freight insurance to ensure that the customer is protected if their goods get lost or damaged in transit. Freight insurance is optional so customers will need to select this option during the shopping cart process if they require it. We will ship your goods to you under one of the following terms depending upon which insurance option you select.
DDP: If you select the Freight Insurance option your goods will be freighted to you "DDP" which means we will assume all responsibility for delivering the goods to you. Any damage or loss of goods will be covered by Kulkyne Kampers at no risk to you. Once you have signed the "Proof of Delivery" when the goods are delivered to you, any damage to the product then becomes your responsibility. Please ensure your goods are fully delivered in good condition before you sign the "Proof of Delivery."
CFR: If you do not select the Freight Insurance option your goods will be freighted to you "CFR" which means you assume all responsibly for loss or damage of the goods from us to you. No liability will be accepted by Kulkyne Kampers under any circumstances if you do not select the Freight Insurance option.
Delivery Times: The times shown on this website are intended as a guide only, please call us if your delivery time is critical.
Freight Details
Size: 95(l) x 26(w) x 27(h) cms
Weight: 13kgs
Optional Freight Insurance: $5.98
King Single Swag
Part Number: KKKSS-G-70
The King Single swag is very popular for a guy of average build as it's 5cm wider than most King Single Swags and also very long at 210cms.
Its got a comfy 70mm foam mattress, is made from heavy duty tight weave plain canvas and features a heavy duty PVC base to keep your mattress dry.
Please be aware of cheap copies of our swags! We pioneered this design over 10 years ago and only use the highest quality materials to ensure our Kulkyne Canvas Swags last you a life time.
Please also be aware of companies over-claiming the weight of their canvas. We use a true 13oz which is the perfect balance between durability and giving the right balance with the pole system.
Features
Dual entry on both sides of the swag
Internal zipped windows with fly screens on ends for climate control
Removable zipped mattress cover
Boot bag/Entrance mat sewn onto side of swag
XL Storm flaps to keep direct rain off the zips
Heavy Duty webbing and quick release buckles to bind swag when not in use
Large canvas awnings over flyscreens (rolled up in the picture)
Heavy duty peg down points
Materials
Breathable 13oz high density Waterproof canvas
Treated for UV and mould resistance
Heavy Duty PVC Tub type Base: 13.5 oz
Extra Fine Flyscreens which still allows air flow
10mm Heavy Duty Alloy poles
70mm High Density Foam mattress
Extra Heavy Duty Zips
Comes with poles, pegs and ropes
Open Size
Length: 210 cms
Width: 95 cms
Height: 74 cms
Box Size
Length: 95 cms
Width: 28 cms
Height: 28 cms
Warranty
This swag comes with a 2 year warranty against defects in materials and workmanship. The swag poles come with a 6 month warranty.





Please Support our Family Business

If you like this page and our website please support our business by sharing this page:







Email Updates

If you would like to keep in touch with us by email,
please enter your first name and email address below.








Brett, Mandy, Isabella & Christian Hooper
Additional Products
King Single Sleeping Bag - 4 Season
Kulkyne
RRP $239.00
Our Price $179.00
Swag Fly - King Single
Kulkyne
RRP $79.00
Our Price $59.00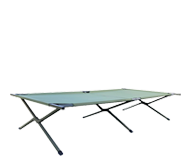 King Single Stretcher
Kulkyne
RRP $219.00
Our Price $159.00